October 9, 2014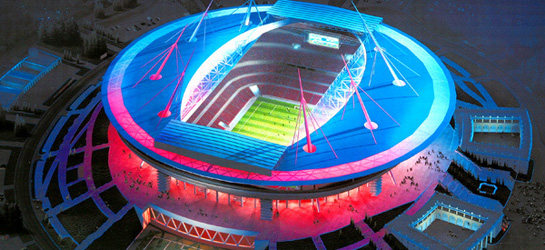 Tehnomarket delivers ventilated facade substructure for FC "Zenith" new footbal stadium in St. Petersburg
Our long term presence in Russian, and 18 other word markets, was crowned with exceptional success-in fierce international competition our company has offered the best solution and secured a contract to manufacture and deliver a complete ventilated facade substructure for FC "Zenith" new footbal stadium in St. Petersburg, Russia.
"Spaceship", a design project by japanese architectural studio "Kisho Kurokawa & Associates", was chosen unanimously by the industry professionals as the best project of the international competition, and it certainly sets the new standard for design and construction of such projects. The new stadium is being build as a part of preparation for World Cup 2018 that will be held in Russia and it will represent one of the most beautiful and modern footbal stadiums in the world.
We see this project as an entry for new projects in Russia and a great opportunity to position ourselves among the world's best aluminium manufacturers.