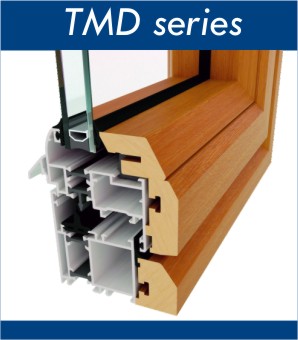 Tehnomarket TMD systems are luxurious products that offer finest details and a fine touch of exclusivity to any interior. It is an ideal combination of long lasting, durable aluminium window with additional hardwood cladding on the inside. Several different hardwoods are available, painted in one of 20 different shades of ecological color.
Aluminium profiles were manufactured in Tehnomarket's own extrusion factory. The raw material used is primary aluminium alloy AlMgSi0.5 (AA 6063 and AA 6060) with minimum tensile strength of 210KN/mm². 24mm wide Polyamide stripes (PA 6,6 with 25% glass fibers) connect inner and outer aluminium parts into finished profiles, and beside functioning as a mechanical bond they also provide a thermal break. Guaranteed shearing force for profiles connected with polyamide stripes is strictly controlled during production.
All elements feature double sealing between frame and sash with two separate EPDM gaskets resistant to UV light.
Exclusive product
Two surface finish options: powdercoating (RAL color chart) or anodisation
More than 20 shades of wood available
&#8291
Download catalogues