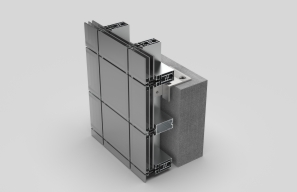 UNIT 65 unitized facade matches a trend of plain architecture with high demand for energy efficiency, prefabrication and quick installation.
Unitized facade consists of single prefabricated modules, which are brought to a site in finished pieces and installed without scaffold from the inside of the object.
Two different system variations based on design are offered by Tehnomarket: structural and semi-structural unitized facade. UNIT 65 Semi-structural has visible aluminium profiles that highlight the unit structure and raster, while UNIT 65 Structural has a minimal, clear, luxurious design with glass surface. The first has thermal transmittance value of Uf 1.1 W/m²k, while the other one has even lower value of 0,89 W/m²K.
Full prefabrication of all elements enables a quick installation on spot. At first an aluminum anchors will be installed on load bearing structure. What follows is simple stacking of elements with crane. Fixing of modules to a position from the inside occurs as the last step. Dilatation of all elements is enabled while load bearing of the whole facade remains undisturbed.
With its technical and visual characteristics unitized facade itself represents a top of the offer in the glass facade range.
exceptional thermal performance with double and triple glazing
complete workshop prefabrication of units
installation on site without scaffolding
Download catalogues