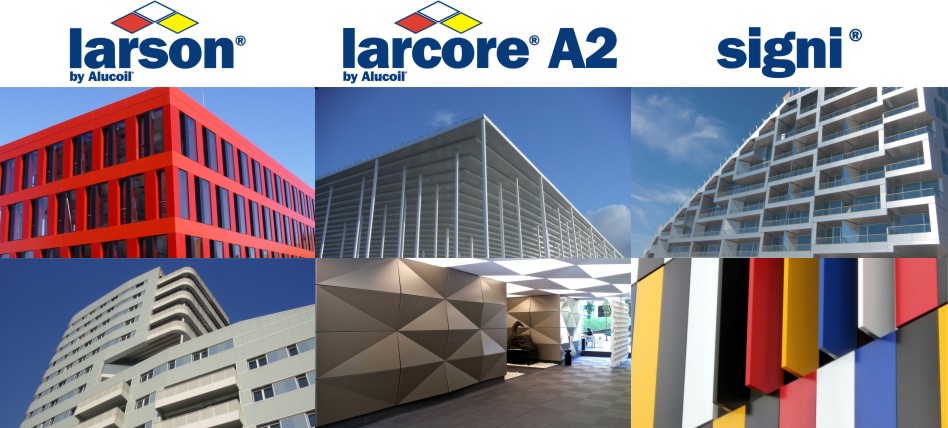 Composite panels
Spanish company ALUCOIL, the member of the Aliberico group, is one of the world's largest manufacturers of the metal composite panels (MCP – metal composite panels) with exceptional variety of colors, designs and textures that are widely used in construction, transportation and advertising industry.
Larson® metal composite panels are the of architect's and designer's material of choice for a quick, efficient facade solution, suitable even for the most complex architectural projects.
In case that a design requires large facade units, Larcore® panels with aluminium honeycomb core are the optimal choice due to extreme rigidity and light weight. Because of their favourable mechanical properties, they are also used in boat construction and railroad industry.
Signi® composite panels are specific products for the fast paced marketing and advertising industry demands, with optimal performance for production of signage items, commercial totems and printing.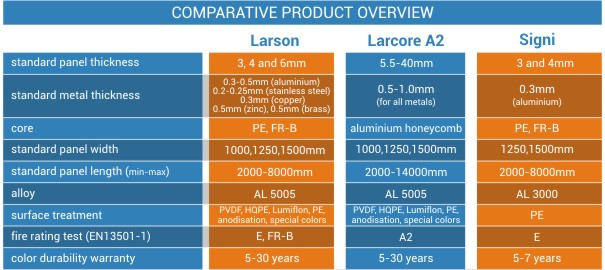 The preferred substructure material for panels or cassetess is aluminium, like Tehnomarket VENT or TMTP substructure system for ventilated facades.
The quality of Alucoil's products is displayed trough exceptional technical and mechanical properties, confirmed by numerou european and world certificatef of the renowned institutes: ETA (European Technical Assesment – valid in 34 countries), EPD (Environmental Product Declaration), DIT, Avis Technique, LNEC, ITB, TZUS, BBA, DIBt, VKF, Opytnoe, Intertek North America, Incerc, Certifire (UK) and CODEMARK Australia/NZ.