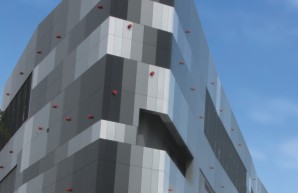 New dynamics
The ventilated facade concept was born out of need for high comfort, durability and reduced costs for modern buildings.
Due to it's functionality and simple application, ventilated facade is the favorable solution for big commercial projects, where high level of prefabrication and long-term durability of facade cladding is required.
Ventilated facades are often applied as an ideal and quick option to revitalize and improve existing objects in line with latest construction standards – simple addition of new, ventilated facade with it's own substructure attached to an existing wall.
The ventilated facade, like TEHNOMARKET VENT and TMTP facade systems, is exceptionally durable and long lasting while offering great flexibility in architectural shaping of visible facade surfaces.Wide range of cladding materials, structures, colors and finishes makes the ventilated facade an extremely attractive option for architects and developers.
Download catalogues and brochures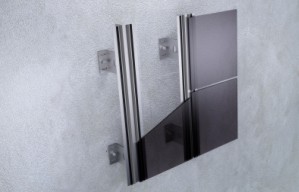 New name for modern facades
Panel systems group consists of aluminium substructure systems for flat cladding panels that feature both visible and hidden mechanical or chemical attachment options. This group covers wide range of facade cladding materials, and features RIVET, TACK, HIDE, STONE and CONTINUAL systems.
Variety of cladding materials
Modern, minimalistic design
Simple installation.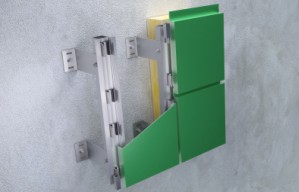 Advanced technical solutions
Cassette systems group consists of five aluminium substructure systems for specially formed cassettes that are machined and bent into shape, with certain depth and usually hidden mechanical attachment to an aluminium substructure. Cladding materials used in this group allow for easy machining and shaping. Systems in this group are: BOX, SLIDER, BOLT, GASKET, and FIT.
High degree of prefabrication.
Different design options
Fast installation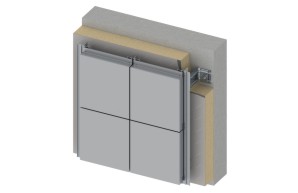 Modular facade solutions
TEHNOMARKET TMTP is a ventilated facade system suitable for different types of artificial or natural cladding materials. This system also supports opaque glass panels and PV panels for multimedial and interactive facades.
System is designed for ventilated facades with aluminium substructure, consisting of system anchors, vertical load barring profiles and adjustable panel brackets (both visible and invisible). The entire substructure enables adjustability of finished panels, both during and after installation, in all three directions.
Extreme system flexibility
Great variety of cladding materials
Adjustability of every facade field