Larson®

composite panels

As an exceptionaly quality product, Larson® brand is the synonym for premium composite panels, certified in all european and relevant world markets. This product is widely accepted as the optimal solution for modern facades by architects, designers, investors and contractors due to attractive possibilities and finish options, high quality and ease of machining and installation.

The panels are constructed from two metal sheet with polyethilene (PE) or mineral, fire resistant (FR) core, designed to comply the high standards of modern construction. Larson® fr panels are certified for thr B-s1,d0 class according to european standard EN 13501-1. The usage of the high quality surface coatings (with the exception of PE-Polyester colours) assures high levels of UV resistance and color durability, even in harsh exterior environments like coastal regions and industrial zones.

With the help of advanced manufacturing process, the bonding layer achieves incredible values and resistance to delamination, wich is double that of competing brands, according to certified test results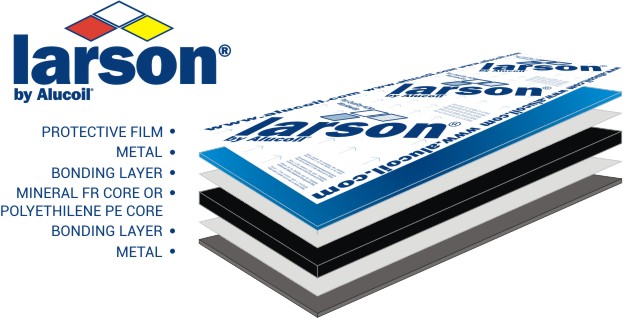 Larson®

aluminium composite panels

Larson aluminium composite panels are a globally renowned brand of high quality, premium products with thousands of satisfied clients and manufacturing facilities on several continents.
The panels are manufactured in 3, 4 and 5mm thickness (aluminium layer thickness of 0.5mm), standard widths: 1000, 1250 and 1500mm and standard lengths from 2000-8000mm. Due to attractive colour and finish range, simple machining and installation, it is one of preferred materials for modern architectural facades.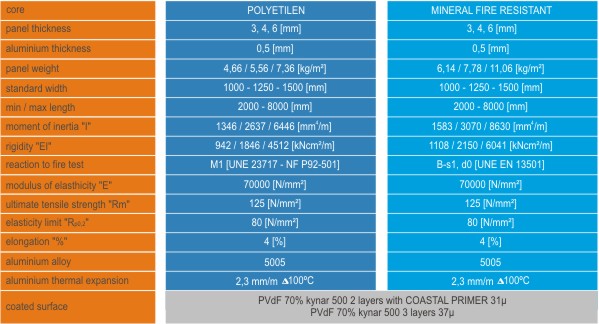 The panels are available in a wide range of colors and special finishes. The aluminium alloy 5005 provides the right foundation for high quality finishes:
– PVdF (Polyvinylidene Fluoride) colours with special primer with 31μ thickness for applications in coastal and aggresive environments
– PVdF (Polyvinylidene Fluoride) colours in three layers with 37μ thickness
– Other finish options: FEVE (Fluoroethylene/vinyl ether copolymer), PUR-PA (Polyurethane Polyamide), HQPE (High quality Polyethylene), Lumiflon (Fluor Polymer), PE (Polyester).
Download Standard colours Color Chart: Solid, Metallic
Larson® Specials and Larson® Wood are special series of composite panels that feature special designed surfaces that highlight entire facades or certain segments. These panel lines are available in following finishes: PVdF, FEVE (Fluoroethylene/vinyl ether copolymer), PUR-PA, HQPE, Lumiflon and PE.
Download Wood designs Color Chart
Download Special designs Color Chart: Mirror, Holo, Anodized, Texture
Larson® Wood series of wood designs that are a perfect substitute for natural wood, without extensive maintenence required.
Larson® Mirror series od panels with special coating that provides almost complete reflection and was, unlike otjer brands, developed especially for exterior usage.
Larson® Holo series of panels feature special finishes that change colour depending on the angle of observation. These type of color is also known as "chameleon", "prismatic" or "spectra" panels.
Larson® Anodized series of panels features anodized aluminium sheets that offer the highest ressistance for harsh and aggresive environments.
Larson® Texture series of panels features textured panel surfaces with different paints and relief surfaces for bold, modern projects and designs.
Larson®

metal composite panels

Beside aluminium, Larson® panels can be manufactured with other metals as well: zinc, copper, stainless steel and brass.These composite panels are modern, ecological solution that emphasizes the esthetics of the chosen metal. They are available in brushed or natural surface texture.

Larson® composite panels are easily machined. They can be installed into facade as flat panels, cassettes or irregular forms, that can demand previous machining like: cutting, drilling, perforation, engraving, roll-bending and numerous other procedures.

Alucoil is the only manufacturer that guarantees durability of the bond between layers even after perforations in panel, whether it was CNC machined or stamped. After independent analysis, Alucoil is prepared to issue warranty up to 10 years for it's products, with the condition that technical recommendations regarding the percentage and nature of perforations are met.
Regardless if panels are prepared to be installed as cassettes or flat panels, they can be installed on one of the Tehnomarket VENT. aluminium substructure systems for ventilated facades.