Larcore®

composite panels

With ever expanding market of Europe in mind, Development department of Alucoil company has presented the new type of composite panel – honeycomb Larcore®A2, which has successfully picked up where Larson® left off and the significant improvements were achieved in the field of fire resistance, panel size, rigidity (more rigid, while somewhat lighter), processing and installation. Larcore panels are non-toxic, fully recyclable, excellent insulators and all that places them among eco-friendly and energy eficient construction materials. Thanks to all that, Larcore has a wide application in construction and architecture, as well as in transportation industry.

The new and improved panel of future generation, Larcore®A2 features all the advantages as Larson composite panel: attractive colors, modern look, exquisite finish, easy processing.

Larcore is produced in the process of continuous co-extrusion. It consists of two metal sheets and the core made of primer aluminium (non-recycled), bonded to the outer skins by the means of chemical agents.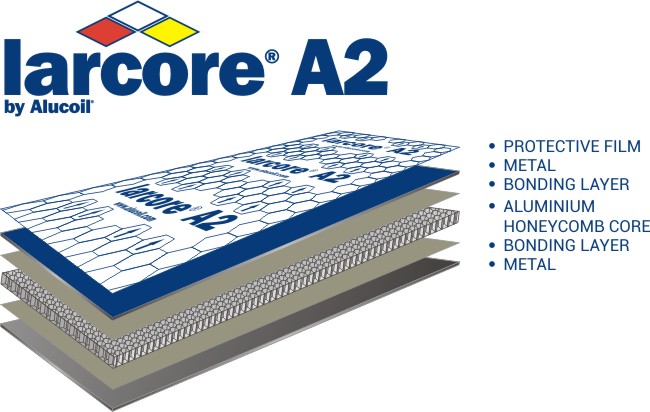 Although available in thickness of 5,5-40mm, Larcore panels are mostly used in thickness of 8-14mm for facade application. With maximum width of 2m and length of 9m, they are an excellent solution for number of situations. They are often used in construction not only as facade cladding, but also for covering floors and ceilling, "Cleanrooms" and in all scenarios that call for perfectly flat surface and quick and easy installation.
Due to their rigidity and light weight, aside from their application in construction, Larcore composite panels are very commonly used in marine, railway and airline industry, for purpose of which they come as much as 14m in length.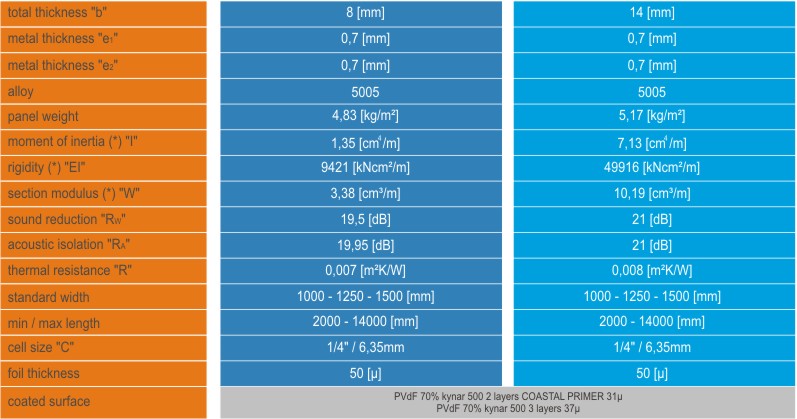 Thanks to honeycomb aluminium core, Larcore is recognized as highly fire-retardant product, certified by the most renowned European and world certification institutions and it proudly bares the label of A2-s1,d0 according to EN13501.

Alongside with Larcore®A2 as facade cladding material, Tehnomarket offers the service of CNC routing and rolling and provides its customers with all-around technical support and consulting regarding the choice of the most adequate Tehnomarket VENT aluminium substructure system for ventilated facades.