Signi®

composite panels

Signi® panels are composite materials designed for special group of professionals in advertising, furniture and interior design industries. With Signi® , Alucoil brougth a speciality product with great number of production options for demanding project requirements.
The production options are the combination of the following attributes:
– panel thickness of 2mm, 3mm and 4mm
– aluminium sheet (3000 series alloy) of 0,2mm and 0,3mm
– polyethilene or mineral FR-B core
– different quality surface treatment options: Polyester 25 µm, or PVDF, HQP and other on request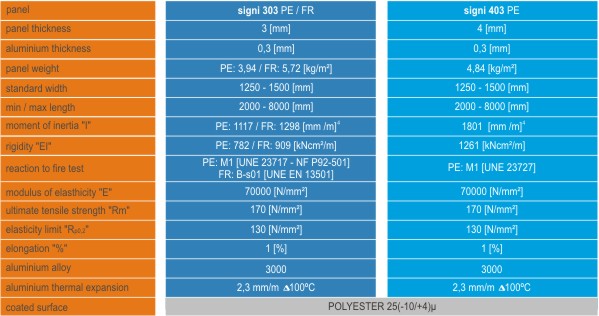 Signi® panels find they application in construction as well, especially in interior applications: separations, lowered ceilings, signage, different covers for ventilation and heating systems outlets, claddings, canopies.
The main advantage for designers are the light weight of panels, simple machining and shaping that opens new design possibilities. Many of the world's top brands and companies has entrusted the realisation of their corporate identity to the Alucoil Signi® brand.
.
Due to it's exceptional performance, Signi® panels are featured on numerous displays, expo stands, signs, totems, and many other applications. For more info, please download the Signi® brochure.
For detailed technical info, please dowload Signi® technical sheet.
Together with Signi® panels, Tehnomarket offers CNC machining and roll bending services, together with technical advice & support with all technical aspects, as well as with TMH or SLIDE system integration for interior positions.