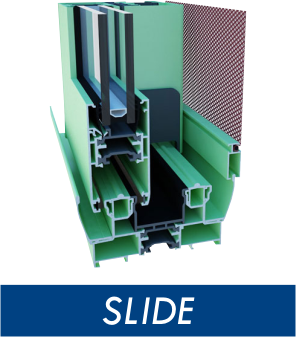 Boundless design
Tehnomarket SLIDE  sliding systems of aluminum windows allow for the maximum transparency and flexibility with minimal occupancy of useful space.
The opening is done by horizontal movement of sashes on two or three sliding rails, up to maximum of six sashes.
Tehnomarket SLIDE system offers the option of one or more opening sashes, depending on the the project requirements and required element sizes.
The SLIDE system is a complete solution for all architectural projects with sliding elements.
Exclusive products
Two surface finish options: powdercoating (RAL color chart) or anodisation
Supports large element dimensions
Download Tehnomarket SLIDE T45 technical description
Download catalogues