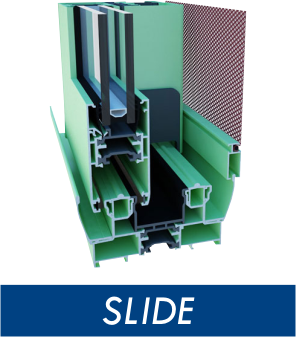 Boundless design
Tehnomarket SLIDE sliding systems of aluminum windows allow for the maximum transparency and flexibility with minimal occupancy of useful space.
The opening is done by horizontal movement of sashes on two or three sliding rails, up to maximum of six sashes.
Tehnomarket SLIDE system offers the option of one or more opening sashes, depending on the the project requirements and required element sizes.
The SLIDE system is a complete solution for all architectural projects with sliding elements.
Two surface finish options: powdercoating (RAL color chart) or anodisation
Supports large element dimensions
Download catalogues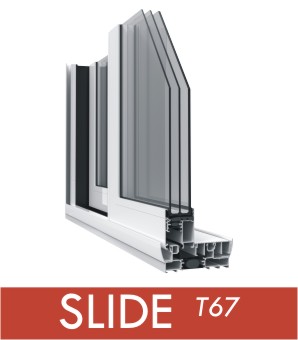 New revised system SLIDE T67 is adjusted to ''lift and slide'' trend which represents a popular choice for opening up large expanses.
A system of levers and wheels lifts the panel off the sill enabling movement of large, heavy panels with very little effort. With low conductivity raging from Uf od 2,4 W/(m²K) and water impermeability of Uw od 1,0 W/(m²K) the major disadvantage of slide system is successfully solved.
Possibility of zero threshold installation, where sill profile is at the ground level, not only enables a better walk through, but also matches a demand for modern design.

System SLIDE T67 features polyamide stripes with thermal infill with 54mm width
Supported triple glass packages from 24 to 50mm.
Sash width 67mm.
Download catalogues